Are you ready to make a move but aren't sure if apartment living is right for you? Whether you plan to downsize or have outgrown your current place, you'll want to consider these important factors during your search for the perfect Central New Jersey apartment.
Location, Location, Location
Before you start apartment hunting, print a map of the area and draw a dot over the place that's most important to you. The place may be your job, the country club, Bridgewater Commons or your favorite relative's house. Decide how far you're willing to live from your favorite place. If you want to live no farther than 10 miles away, draw a circle that encompasses the towns and neighborhoods in a 10-mile radius. The circle will help you narrow down ideal locations and avoid wasting time touring apartments that just won't work.
Total Costs
It's important to consider your real monthly costs, not just the cost of rent, when you search for a new home. To find real cost of an apartment, add the rent, security deposit, pet and parking fees, application fee, average cost of utilities, and the yearly cost of renters insurance and then divide by 12. The number you see will help you ensure that there's enough room in your budget before you fall in love with a particular apartment.
Convenience
Convenience is an often overlooked factor when people consider apartments. Your apartment may be beautiful and spacious, but if it takes 20 minutes to reach the nearest grocery store or 40 minutes to get to the train station, your new place will soon lose its luster. Don't forget to consider your commute when you hunt for an apartment. Visit the complex during morning and evening rush hours and time how long it takes you to get to and from work.
Kitchens and Bathrooms
Kitchens and bathrooms sell houses and rent apartments. The upkeep of these rooms can also provide valuable clues about the landlord's focus on maintenance. If the kitchens and bathrooms aren't well maintained, unseen aspects of the building, such as plumbing and electrical systems, may not be in top shape.
Do you enjoy cooking and baking? If you're downsizing, you may very well have to accept a smaller kitchen, but if the room is too cramped, cooking may soon become a chore. You may have to look a little harder, but you can find rental communities that offer spacious kitchens with all the amenities.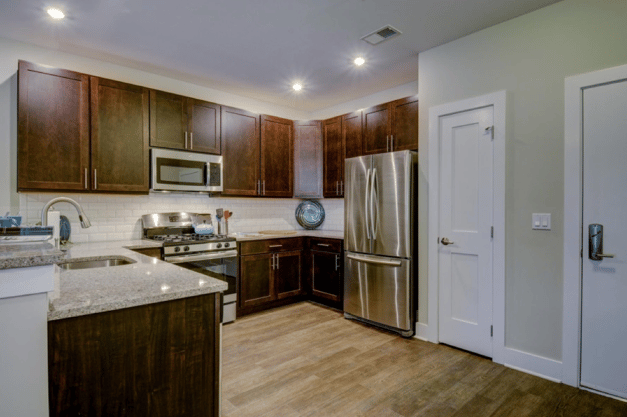 Furniture Considerations
Will your furniture fit in the apartment? If not, is new furniture in your budget? Before you schedule your next apartment tour, measure your couch, bed, dresser and other large pieces of furniture. When you visit a rental community, take a tape measure with you and confirm that your furniture will fit in the room and through doorways.
Must-Have Features and Amenities
Although you'll definitely want to decide how many bedrooms or bathrooms you'll need before you start your apartment search, you'll also want to consider other amenities and features that are important to you, such as:
Walk-in closets
Dishwasher
New appliances
In-unit washer and dryer
Private balcony
Fitness center
Additional storage
Elevators
Community rooms
Grills
Fire pits
Playgrounds
Pets
Your pet is a member of your family, but some rental communities don't see it that way. If you have a dog or cat, scratch those pet unfriendly places off your list before you even begin your search. Keep in mind that many communities charge extra fees for pets and may limit the size, type or number of pets. The most pet friendly complexes keep your furry friend in mind and offer dog runs and other amenities.
Parking
Parking far from your apartment does have its benefits. You'll get some exercise and enjoy a little fresh air as you lug your groceries from the farthest reaches of the parking lot. If a long walk from your car to your home doesn't sound appealing, you'll want to find out if the community offers designated parking spaces. If it doesn't, it's a good idea to stop by in the evening before you sign a lease and note how many empty spaces are available for both residents and visitors. Hate clearing snow and ice off your car? Some communities even offer garages available for rent.
Are you looking for a luxury apartment close to highways, public transportation, stores and restaurants? Fairway 28, a Country Classics Rental Community, offers brand new one- and two-bedroom apartments that overlook the Green Knoll Golf Course and are just minutes away from routes 287, 202 and 22. Stop by during office hours or get in touch with us to schedule a tour.
Sources:
Apartment Guide: 11 Things to Think About Before Renting Your First Apartment
http://www.apartmentguide.com/blog/your-first-apartment-four-things-you-need-to-know/
Washington Post: What You Need to Know Before Renting Your First Apartment
https://www.washingtonpost.com/news/where-we-live/wp/2017/02/13/what-you-need-to-know-before-renting-your-first-apartment/?utm_term=.263282d56ac5
Apartments.com: 12 Questions to Ask Before Renting an Apartment
http://www.apartments.com/blog/12-questions-to-ask-a-property-manager-before-signing-a-lease