Your free time is your own when you live in an apartment. You don't have to worry about mowing the lawn, shoveling snow or figuring out why the toilet is making that strange noise. Thanks to the freedom renting offers, you'll have more time to truly take advantage of your community's amenities.
Apartment living is particularly common these days, as more and more people embrace the advantages living in an apartment offers. In fact, 37 percent of Americans live in rentals, according to the National Multifamily Housing Council. Take a look at a few things that make renting an apartment so appealing.
Apartment Complexes Offer Ready-Made Communities
Most of your friends probably lived in nearby homes or apartments when you were a kid. If you wanted to play tag or catch lightning bugs, you could usually find plenty of eager playmates just outside your door.
Proximity, one of the reasons that your childhood friendships were so successful, can play a role in relationships throughout your entire life. As an adult, it's much easier to make new friends when you live close to your neighbors. Homeowners may occasionally wave to the guy who lives next door as they drive past, but you'll have the opportunity to mingle with your neighbors every day when you share a hallway, parking lot and other common areas.
Fitness Lovers Will Enjoy the Free Gym
Pricey gym memberships are unnecessary when you live in an apartment. Many upscale apartment complexes provide free, fully equipped fitness centers that offer the latest exercise equipment. When a trip to the gym only requires a five-minute walk, bad weather or traffic jams won't stop you from getting a workout.
If you use the gym at the same time every day, you'll probably see the same group of fellow fitness lovers. As you chat about you're your day or compare techniques, you may find that you have more in common than just fitness.
Communities Offer Plenty of Outdoor Space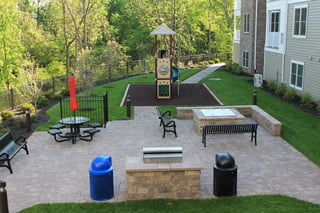 You might not have a yard, but you'll still have ample opportunity to enjoy the outdoors when you live in a rental community. Many communities offer outdoor patios complete with tables, benches, grills and fire pits. Outdoor facilities make it easy to grill a few steaks for dinner or socialize with new friends around the fire pit. The best communities don't overlook children and pets. Tot lots and dog runs ensure that little ones and pets can expend a little excess energy and make new friends.
Do you enjoy a daily after-dinner walk? The pathways around your apartment complex offer the perfect place for evening stroll. If you're looking for a more low-key outdoor experience at the end of a long day, there's nothing like relaxing on your private balcony with a refreshing beverage.
Looking for a Party Location? Try the Common Room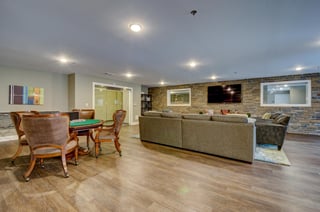 There's no need to rent a room at a local restaurant when your apartment complex offers a common room. The rooms typically offer comfortable furniture, large screen TVs and may even feature small kitchens. They offer the ideal location whether you're planning a party or just want to hang out with your friends in the community.
Apartment Communities Offer Convenient Access to Local Amenities and Services
Most apartment communities are located close to major roads, public transportation, stores and services. Living in an optimally located community can decrease your commute and the time you spend driving to the mall and local restaurants. When you spend less time in your car, you'll have more time to do the things you want to do.
Storage Areas Help Reduce Clutter
Some people avoid living in apartments due to concerns about lack of storage. Many of today's luxurious apartments offer large closets and gourmet kitchens with spacious cabinets, but you may still find it difficult to fit large items, such as Christmas trees or camping gear, in your apartment. Luckily, you may be able to rent a storage unit in the community for a small free. The units offer the perfect solution to storage issues and provide a safe place to store your belongings.
On-Site Garages Protect Your Car
If you're accustomed to parking your car in a garage, it can be difficult to make the adjustment to lot parking. Every time you dig out from a snowstorm or burn your fingers on a hot steering wheel, you miss your garage a little more.
When you live in an apartment community with on-site garages, you don't have to worry about temperature extremes or dings in your car doors. For a small monthly fee, you'll get your own personal garage located close to your apartment.
Are you ready to make the move to a luxury apartment that's close to everything? Fairway 28, a Country Classics Rental Community, offers one- and two-bedroom luxury apartments in Bridgewater, NJ. Renters enjoy a fitness center, storage units, fire pit, community room and other amenities. Contact us and find out how you can become a resident of Fairway 28.
National Multifamily Housing Council: Quick Facts: Resident Demographics
http://www.nmhc.org/Content.aspx?id=4708#RentOwn
Apartments.com: 15 Reasons Why Apartment Living is the Perfect Situation
http://www.apartments.com/blog/15-reasons-why-apartment-living-is-the-perfect-situation