Does your apartment seem a little musty and dusty after the long winter? Spring is the perfect time to throw open your windows and deep clean your entire home. Before you gather your spring cleaning supplies, take a look at these five tips.
Start from the Top
During the winter, a fine layer of dust accumulates on top of your kitchen cabinets and refrigerator. If you clean these areas last, the dust you stir up may fall on to your newly cleaned floors and counter tops, doubling your workload. After you dust cabinets, the refrigerator and tall pieces of furniture throughout your apartment, tackle the walls and ceilings. Run a feather duster or a microfiber duster over walls and ceilings to remove dust and dirt.
Use a Non-Toxic Cleaner
Non-toxic cleaners are just as effective as harsh products and don't produce toxic fumes. If you prefer, you can even create your own cleaning solution. Martha Stewart recommends spraying a solution of 2 cups of water and 2 tablespoons of dish washing liquid on counters and hard surfaces, and cleaning mirrors and windows with equal amounts of vinegar and water.
Get Your Toothbrush Ready
Your toothbrush (or any small brush) is a crucial spring cleaning tool. Thanks to its small size, it can be used to clean the tracks at the base of sliding doors or windows, or make door pulls and knobs sparkle. Toothbrushes are also ideal for cleaning grout, removing grime from the base of faucets, and extracting crumbs and dirt from hard-to-reach spaces in the refrigerator.
Empty Everything
Your apartment won't be fully clean if you just dust around the dishes in the cabinets or the clothes in the closet. Remove everything from closets and kitchen and bathroom drawers before you begin your cleaning spree. Although you can certainly clean with paper towels, scrubbing hard surfaces with a microfiber or other type of reusable cloth offers a greener way to accomplish your spring cleaning.
Pay Attention to the Little Details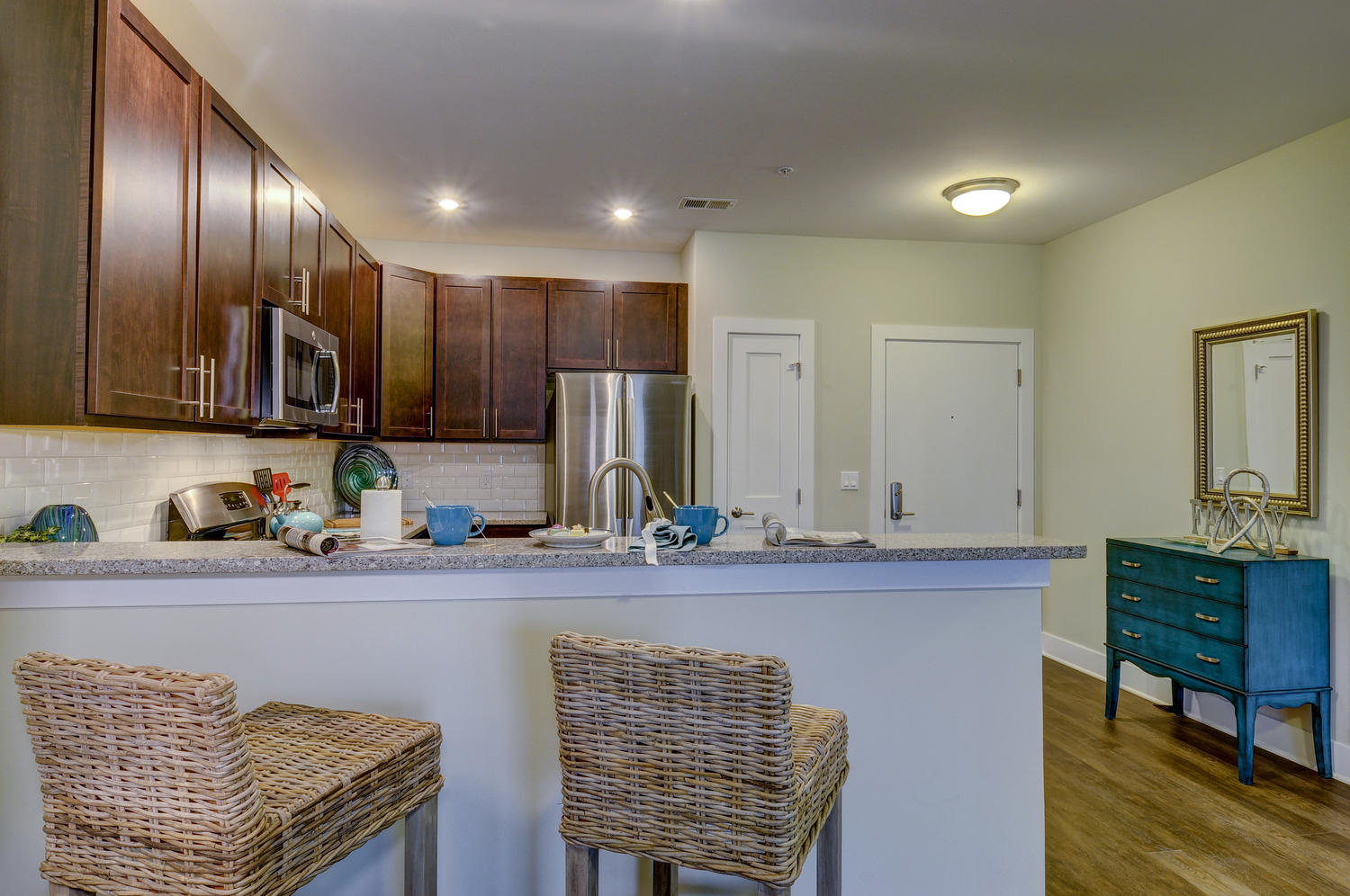 Your kitchen cabinet door and drawer fronts may look fine, but that doesn't mean that they're as clean as they can be. Even if you use your exhaust fan regularly, a fine layer of dirt and grease may eventually coat these surfaces. The same water/dish washing liquid combination that cleans counters will also cut through grime on your cabinets and your exhaust hood.
When you clean, don't forget to:
Take a look at switch plates. Fingerprints and smudges can accumulate on these surfaces.


Clean out anything with a door. You might think that your dishwasher is self-cleaning – until you run a wet cloth over the bottom of the door and see a telltale strip of dirt. Spend a little extra time cleaning the interior of the dishwasher, washer, dryer, microwave, toaster oven, oven and refrigerator during spring cleaning.


Wash Soft Furnishings: Throw anything that can be washed into the washer, including curtains, bath mats, decorative towels and pillow covers. Take advantage of the extra-large washers at the local laundromat to clean your comforter or quilt.


Toss Expired Products: You'll save space and prevent upset stomachs when you toss expired food products instead of just putting everything back in your kitchen cabinets. Throw out old beauty products in the bathroom too. WebMD recommends replacing mascara and liquid eyeliner after three or four months, lipstick and lip gloss every six months to one year, and liquid foundation yearly.


Clean the Space Under Your Bed: Monsters may not lurk under your bed, but spiders and other creepy crawly things might. When you clean, remove everything from under your bed, then vacuum the carpet or wash the flooring.


Pull Out the Refrigerator: Dust builds up on refrigerator coils throughout the year, which may require the appliance to work harder to keep your food cold. Vacuuming or dusting coils only takes a few minutes and will help prolong the life of your refrigerator.


Check Vents: If cleaning your heating and cooling vents isn't a regular part of your normal cleaning routine, you'll want to spend a few minutes dusting them when you deep clean your apartment. Keeping vents free from dust is particularly important if you have allergies.
Spring cleaning is much easier when you have ample storage space for your belongings. If your apartment is just too small, why not move to a spacious apartment at Fairway 28, a Country Classics Community in Bridgewater, NJ? The community has one and two bedroom apartments available for rent. Contact us for more information on availability!
Sources:
Martha Stewart: Cleaning Products 101
https://www.marthastewart.com/274289/cleaning-products-101?slide=3408055
WebMD: How Long Should You Keep Makeup?
https://www.webmd.com/beauty/features/toss-makeup