Decorating for the fall season was so easy when you were a kid. You simply crayoned a colorful picture of a pumpkin or decorated a hand-shaped turkey and displayed your art on the refrigerator. Although you probably favor a more sophisticated style these days, decorating your apartment for the fall doesn't have to be difficult. These six fall decorating ideas can make your home feel inviting and comfortable.
Light a Candle
Candles add color and fragrant fall aromas to your home. Pumpkin spice, apple, cinnamon, clove and other scents offer a subtle reminder of the season. Scented candles can cause problems if you have allergies or migraines. If that's the case, buy unscented candles in vibrant fall colors instead.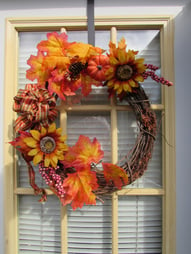 Display a Wreath
Wreaths aren't just for Christmas these days. In fact, the classic decorations can be modified to fit any theme or season. Ready-made fall wreaths are available at craft stores and plant nurseries. If you enjoy creating your own décor, making a wreath is a fairly simple do-it-yourself project. Pinterest and Woman's Day offer ideas and instructions for wreaths that will add a little autumn flair to your apartment.
Doors aren't the only places to hang wreaths. Prop them up on bookcases or tables, or create a one-of-a-kind banner by stringing several mini wreaths together.
Choose a Theme
Picking a theme may make it easier to choose decorations that fit your personality and look great in your apartment. Your theme can be related to color, such as using only forest green and burnished orange in your decorations, or may incorporate a character or group of objects.
Placing tall vases filled with branches in every room, each spray painted a different autumncolor, creates a minimalist autumnal theme. If you prefer a more traditional approach, consider incorporating scarecrows, witches, ghosts, vampires or other Halloween favorites. Favorite characters add a whimsical touch to your decorating scheme, particularly when you select a few offbeat or humorous choices. Thrift stores and Internet sites are a good source for unusual or vintage decorations.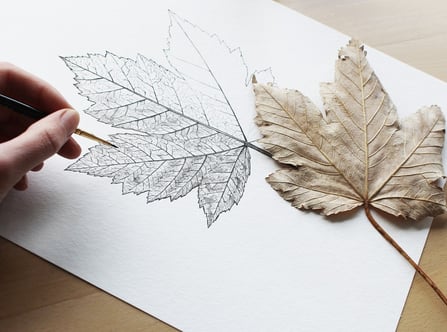 Showcase Autumnal Art
Embrace the changing seasons by rotating your artwork. Buy a few prints or paintings of colorful forests or other fall-themed subjects to add autumn flair to your walls, or paint your own outdoor scenes if you're artistically inclined.
Although artistic skills are always helpful, they aren't absolutely necessary for creating an attractive piece of art. In fact, sometimes the simplest projects offer the most visual interest. During your next walk, collect leaves in a variety of colors and shapes. Glue the leaves to a canvas and preserve them with a coating of Modge Podge for a quick project that offers plenty of visual appeal.
Decorate with Festive Pillows
Buying new pillows is a relatively inexpensive, easy way to bring fall colors into your apartment. When you shop for new pillows, choose deep orange, brown, yellow, green or maroon fabrics that mimic the colors you see outside your windows. Do you enjoy sewing? Making pillow covers is a fairly easy sewing project that can save you a little money. Once you create your autumn covers, you just may be inspired to sew covers for every season and holiday.
Choose Autumn-Themed Bedding
You spend eight hours or longer in your bedroom every day, so why not turn the room into the perfect fall oasis with autumn-themed bedding? Select a duvet, comforter or bedspread in colorful fall shades or rich plaids. You may be an adult, but that doesn't mean your sheets have to be plain and boring. Plenty of manufacturers sell whimsical linens covered in pumpkins, ghosts, haunted houses or skeletons in full, queen and king sizes.
Add a Splash of Color with Pottery
Display your favorite red or orange mixing bowl on the kitchen counter for a pop of fall color. Don't have colorful pottery? Pick up a white bowl at a local store or thrift shop, then add a color with acrylic or craft paint. Cover the entire exterior with paint or decorate it with an autumn-themed pattern. (If you plan to use the bowl to hold food, don't paint the inside.) Once the bowl dries, fill it with apples, pine cones or Halloween treats.
Make a Fall-Inspired Centerpiece
Create inexpensive centerpieces with small pumpkins, gourds and squash. Store-bought candle holders can be a little pricey, but there's no reason to buy them when you can make your own with gourds. Draw a circle around the top of the gourd, then cut a hole about an inch deep. Add a tealight candle for the ultimate fall-themed centerpiece.
If you don't have time to create an elaborate centerpiece, place a collection of small and medium pumpkins on your dining or coffee table. For a more sophisticated look, purchase a few white pumpkins or cover orange pumpkins in white, black or silver paint. Add a few tall candles to your display for added drama.
Fill It Up
Add leaves, pinecones, acorns, and small pumpkins and gourds to glass bowls, vases or other transparent containers. Fill the bowl with gourds alone, or layer several objects in the container. Creating your new decoration only takes seconds and requires absolutely no artistic skill.
Your bowl or container doesn't have to be big to make an impact. Small vases filled with acorns add a little atmosphere to your bathroom or kitchen counters but aren't so large that they get in the way.
Bring the Outdoors In
Decorating with seasonal foliage and flowers is the easiest way to create the perfect fall environment in your apartment. Buy a few potted mums from the Home Depot in Bridgewater and place them outside on your balcony.
Nothing says fall quite like brilliant orange, red and yellow leaves. Clip a small few branches from a tree (after asking permission, of course) and display the colorful foliage in tall vases.
Is finding a new apartment on your to-do list this fall? 745 Hamilton, a Country Classics Rental Community, offers luxury one- and two-bedroom apartments conveniently located in Somerset, New Jersey. Learn more about our available apartments in Somerset here, or download the brochure below!
Sources:
House Beautiful: The 23 Best Fall Candles That'll Get You So Psyched for the Season Ahead
https://www.housebeautiful.com/shopping/home-accessories/g4715/best-fall-candles/
Iowa State University: Ghostly Pumpkins
https://hortnews.extension.iastate.edu/2009/10-14/whitepumpkins.html