Building a House vs. Buying a Previously Owned Home
If you are trying to decide between buying an existing home or building a new home, there are a few things you should know. Here are a some benefits to building a new home vs. buying a previously owned one.
Pros to Building a New Home
Customization: When building a new home, you can choose your floor plan and have the builder customize the home pre-construction. This allows you to put your personal touch on the home by choosing things like countertops, kitchen cabinets, tile, hardwood flooring, paint colors, and more!
Ease: When you buy a new home, the work is already done or will be done for you!
Features: New homes come with many desirable features that older homes simply don't have. Some of these include: open concept floor plans, eat-in kitchens, walk-in closets, large master bathrooms, new appliances, and so much more!
Style: Building a new home allows you to set the tone for the style and design. Based on your customizations and selections from the Design Studio, your home can truly feel like it was built just for you.
Cost: A very positive financial benefit to a newly built home is that they require little to no maintenance. With brand new appliances, plumbing, heating, and air, you have at least a few years of very minimal repairs or none at all!
Efficiency: Utilizing new construction materials, newly constructed homes are more energy efficient than older homes. This means your utility bill will be more affordable than if you bought an older home of the same size!
Lifestyle: You will be moving into a new house that will be essentially perfect! Living in a new home can reduce stress and give you the home lifestyle you've always wanted!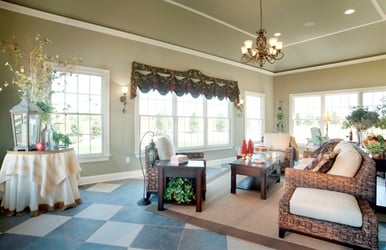 There are many great positives to consider when buying a new home! Once you have considered your budget, the neighborhood, the type of home you want, and other factors, you might find out a new home is right for you!
If this is the case, we would love to show you some of our great options for building a home! If you are ready to learn more, you'll want to check out our premier new-home community, Country Classics at Hillsborough. Click here to speak with a new home advisor!

We hope this page has helped you in your comparison between new and existing homes, and we wish you luck in your home search!