What comes to mind when you hear the word community? Do you think about a geographic area? Do streets and boundaries come to mind? Do you think about amenities and activities in a certain area? Is a community defined by its ZIP code?
Actually, all of those things are part of what makes up a community, but of course, there's more to the story. And when you talk about building a community, there's a lot more involved than simply building houses.
Country Classics has been building superior homes in New Jersey and Pennsylvania since 1988. And while we're proud of the quality homes we build, we know that building communities also means taking care of the people who live in those communities. That's why we consider it a privilege to give back to the communities where we build homes.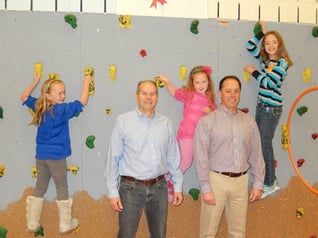 In the fall of 2013, Country Classics made a donation to Amsterdam Elementary School in Hillsborough, NJ, which enabled the school to purchase a rock-climbing wall for their gymnasium—something that the children have enjoyed daily since its installation.
"The wall brings excitement to gym class and teaches students new agility skills and builds confidence as they traverse across the wall," said Christine Battagliese on behalf of the Amsterdam School and Home Association.
This isn't the first time Country Classics has helped out the 520 Amsterdam Elementary students in grades K-4. They also built a brick enclosure for the school's new sign and built a kiln.
It's not just kids that we care about, however. Jackie Mello has a son, Brian, currently serving in the United States Navy. In early 2014, Brian was sailing aboard the USS Cowpens CG63, a Ticonderoga-class guided missile cruiser. As a good mom, Jackie sent her son a care package.
"Brian has a group of approximately 80 sailors in his quarters, and they all share things and have each other's back at all times," explained Jackie. When the rest of the Country Classics employees heard about the other sailors in Brian's quarters, they wanted to get involved.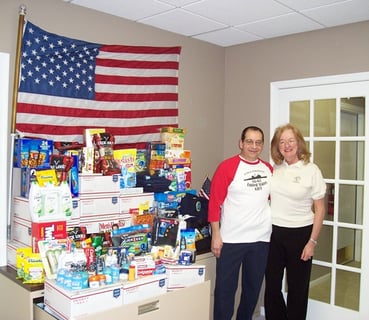 Jackie compiled a list of most-needed items such as cotton balls to shine shoes, black socks, snacks, and personal care items. Design Studio Director, Laura Fluharty, took the reins of the project and coordinated the collection. "We expected a bag or two of peanuts, a shampoo bottle, a maybe a few pairs of socks. But the staff dropped off cases of peanuts, a bundle of shampoo, packages of socks, and other items," says Laura. Country Classics ended up shipping 18 boxes for Brian to share with his mates!
Country Classics has a long history of providing support to groups and organizations in the community. Continual support includes: Hillsborough Rescue Squad, Hillsborough Rotary Club, Resource Center of Somerset, Shannon Daley Memorial Fund, Readington Recreation, Whitehouse Rescue squad, and the Somerset Medical Center Foundation, all located in NJ. Not only dedicated to giving back in NJ, the company contributes to organizations in Pennsylvania as well. Unending donations are made to The Children's Home of Easton and Lafayette College. These are just some of the donations made on a regular basis on the long and impressive charitable contributions list of Country Classics. Employees also happily donate on a regular basis to community food banks and to other select organizations during the year.
You can probably tell that people are the most important part of our communities—and we'd love to be part of your community—whether that's in Hillsborough, NJ, Montgomery Township, NJ or Williams Township, PA.