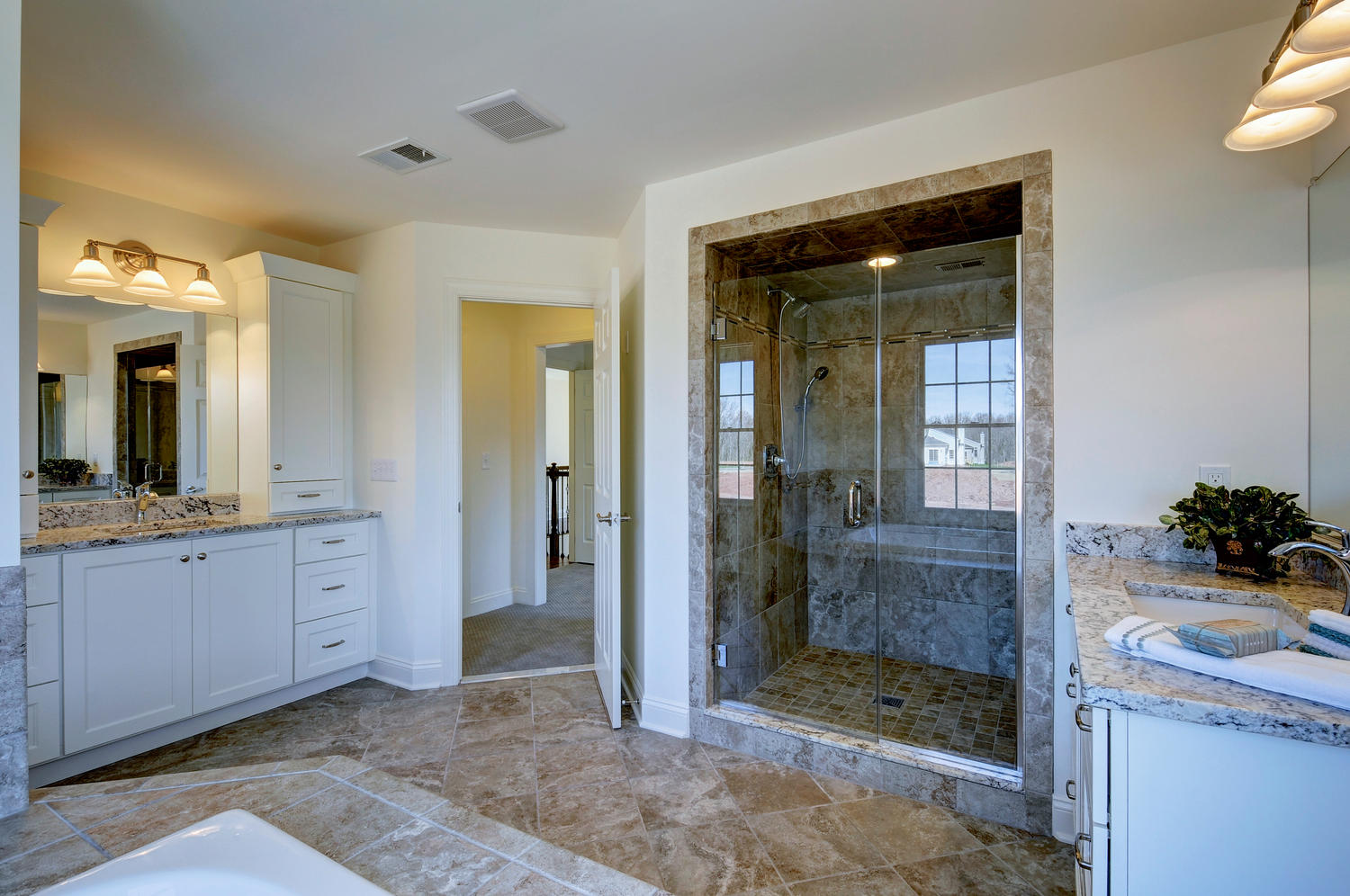 In just over a hundred years, bathrooms have gone from no-frills "necessary" rooms to well-designed spaces that incorporate upscale finishes, ample storage and high-end showers and bathtubs. Even the most basic bathroom can be transformed in a beautiful, peaceful oasis when you incorporate a few of these features and products in your new home.
Soaking Tubs
Standard bathtubs may be perfectly fine for bathing children or pets, but they're often not deep enough to allow adults to soak away stress and relieve muscle aches. Soaking tubs offer a better option. The tubs hold at least 20 inches of water and are often big enough for two.
Soaking tubs can also function as the focal point of your bathroom. Although the tubs are available in the classic elongated oval shape, many manufacturers offer styles that could practically qualify as sculptures. Some soaking tubs even offer additional features, such as colored lights, jets, in-line heating and underwater speakers. Want to add drama to your soaking tub? Try a different type of water source. Ceiling tub fillers mounted over your soaking tub produce a gentle, soothing flow of water from above.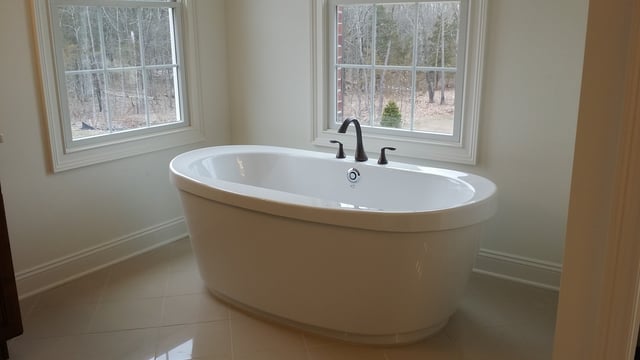 Green Features
Are you committed to green living? Why not add environmentally friendly features to your bathroom? In addition to low-flow toilets and showerheads, consider installing faucets activated by motion sensors. The faucets may serve the same purpose as the public restroom varieties, but they're designed to complement upscale decorating schemes.
Green flooring helps protect the environment and adds beauty to your bathroom. Choose from ceramic or glass pebble tiles made from recycled materials, or select products made from sustainable sources, such as cork.
Elaborate Showers
It took decades, but showers finally occupy a prominent place in the bathroom after spending years as just another part of the bathtub. The revolution started with separate shower stalls located next to the bathtub. Over the years, showers have increased in size and slowly inched their way away from the tub.
Steam showers are a particularly popular option in upscale bathrooms. The showers offer all the advantages of saunas and none of the upkeep. When you hit the steam setting, you'll be enveloped in a cloud of steam that can help clear your sinuses and even improve your skin tone. Hitting another button turns on the shower function.
Other popular features include seamless showers that reduce mold, multiple showerheads and no-threshold showers. No-threshold showers also offer practical advantages. If you ever injure yourself or plan to age in place in your home, you'll find it much easier to enter the shower if a lip or ledge doesn't impede your progress.
Add your shower to the list of things you can control with your smartphone. Turn on the shower from your phone while you're making your morning coffee or getting your final five minutes of sleep. The app remembers your favorite settings, ensuring that the water is the perfect temperature when you're ready to enter the shower.
TVs, Surround Sound and Mini-Bars
Televisions and surround sound systems are becoming increasingly popular features in luxury bathrooms. Waterproof televisions and floating, waterproof remotes make it easy to indulge in a little television watching while you de-stress from your hectic day.
Not a tub person? When you add surround sound to the entire bathroom, including your shower, you can enjoy your favorite tunes or the latest news updates while you shower or shave.
When you're enjoying a movie from your soaking tub, the last thing you want to do is haul yourself out of the water and make the long trek to the kitchen to grab a bottle of wine and a few glasses. Installing a mini-bar area in the bathroom means you won't have to make that cold journey wrapped only in a towel. Whether you want to make the mini-bar a design element or hide it behind cabinet doors, the feature is one you're sure to enjoy.
It's easier to add these features during the construction process than it is to retrofit bathrooms in an existing home. All of the new four-bedroom executive homes at Fox Brook at Hillsborough, a Country Classics Community offer three full bathrooms that can be enhanced with upgrades and features that will make your life more pleasant. Contact us today to find out how you can become a Fox Brook resident.
Sources:
Houzz: Green and Clean Eco-Friendly Bathrooms
https://www.houzz.com/ideabooks/3253330/list/green-and-clean-ecofriendly-bath-floors
HGTV: Buying a Bathtub without Getting Soaked
http://www.hgtv.com/design/rooms/bathrooms/buying-a-bathtub-without-getting-soaked
DIY Network: 10 Best Bathroom Remodeling Trends
http://www.diynetwork.com/shows/bath-crashers/10-best-bathroom-remodeling-trends-pictures