You may not be able to make permanent changes to your apartment, but that doesn't mean that your living space has to be bland and boring. Artwork, furniture and décor choices allow you to create a space that fits your personality and lifestyle. Here are six decorating ideas that can liven up your space.
Add Splashes of Color
Adding color to your apartment can be a challenge when your walls must remain white. Instead of choosing neutral colors when you select rugs, window treatments and furniture, don't be afraid to embrace bold colors or prints. Keep in mind that a few splashes of color can enliven any room, but too many competing colors can overload your senses.
If you select a bright red or blue couch, consider pairing it with chairs that feature complementary prints, rather than selecting an entire suite of furniture in the same bold color.
Invest in Quality Window Coverings
Window treatments can instantly change the feel of any room. Find out if you are permitted to remove the mini blinds in your apartment and replace them with colorful, luxurious curtains in rich fabrics. Well-made curtains instantly make any room feel more upscale and coordinated.
Even if you can't remove the mini blinds, adding curtains to the windows will still improve the appearance of the room. Are your windows smaller than you would like? Hang curtains a foot or two away from the window frame to create the illusion of large windows.
Create a Gallery Wall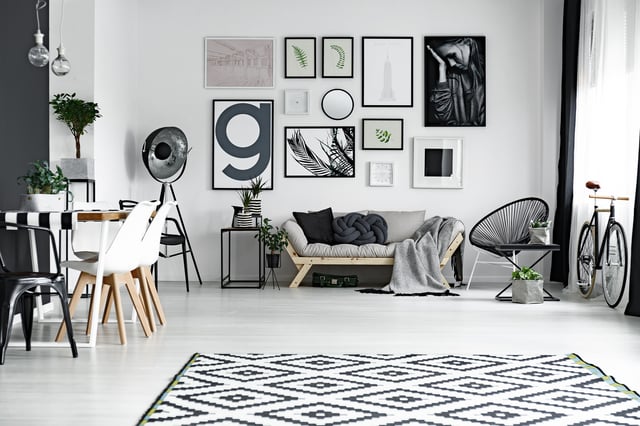 Your apartment will look anything but cookie cutter when you turn one wall in your living room into a gallery wall. Pinterest.com offers a wealth of ideas that will help you create an eye-catching wall. When frames are the same size, your eyes tend to quickly drift over the entire collection, rather than focusing on specific pieces. Use frames in a variety of sizes to increase visual interest. Although paintings and photographs are traditionally associated with gallery walls, you can create a wall using anything you wish, such as colorful fabrics attached to picture frames or your collection of antique clocks.
Decorate with Removable Wallpaper
Removing wallpaper used to require hours of scraping. No matter how carefully you pried those stubborn pieces of paper from the wall, the naked wall still showed dings and dents. Obviously, installing traditional wallpaper would be a very bad idea in an apartment. Fortunately, there's a better option today.
Peel and stick wallpaper can be easily removed from walls and doesn't cause any damage. When it's time to move or you've grown tired of the wallpaper, simply grab a corner of the paper and pull down the entire sheet. Peel and stick wallpaper comes in a variety of designs and color designed to brighten your home. Before you use the paper to cover an entire wall, apply a small square to an inconspicuous area to ensure that the product really can be removed easily.
Do you dislike the tile in your apartment's kitchen? Some of the companies that offer peel and stick wallpaper also offer tile-sized decals that can totally change the look of your backsplash.
Create a Bedroom Retreat
Is your bedroom just as beautiful as the rest of your apartment? It's tempting to focus on the public areas of your apartment and neglect your bedroom. Unfortunately, a sterile-looking bedroom isn't very restful.
Instead of adopting a "good enough" approach to bedroom decorating, slow down and take the time to think about the colors and textures that you find pleasing and relaxing. Page through home magazines or take a look at Internet decorating sites for inspiration, but make sure that your choices truly make you happy.
Embrace the White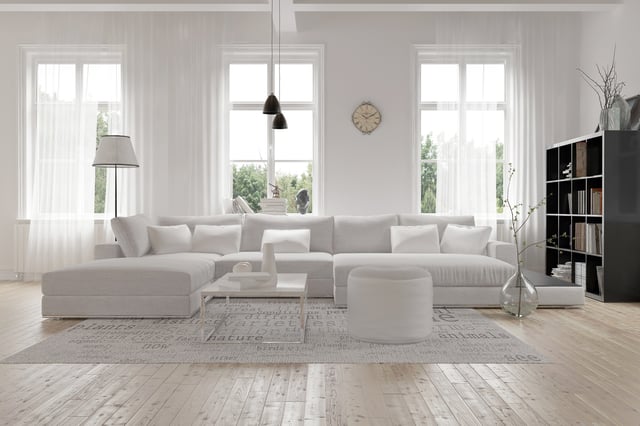 A white room makes a powerful decorating statement. If you're a minimalist, forget about splashes of color and add more white to your home. White couches, area rugs, lamps and curtains create a surprisingly homey atmosphere when you choose pieces that are not only comfortable but stylish.
White also works if you want to create a more contemporary feel. When you choose sleek furniture with clean lines and focus on one large piece of artwork, rather than a gallery wall, it's easy to create an attractive room with a contemporary flair.
Do you need the perfect backdrop for your apartment decorating ideas? Fairway 28, a Country Classics Rental Community in Bridgewater, NJ, offers large, luxurious one- and two-bedrooms with gourmet kitchens, tile bathrooms, private balconies and generously sized bedrooms. Contact us to learn about available apartments.
Sources:

Pinterest: Gallery Wall

https://www.pinterest.com/search/pins/?q=gallery+wall

Apartment Therapy: Banish Bare Walls, Even in a Rental: 10 Sources for Removable Wallpaper

http://www.apartmenttherapy.com/banish-bare-walls-even-in-a-rental-10-sources-for-removable-wallpaper-178231