Do you need a little help choosing a floor plan for your new home? If you're considering building a new home in New Jersey this year, you'll want to review five steps that may make it a little easier to choose the best floor plan for you and your family.
Start with the Basics
It's difficult to rate floor plans if you're not sure which new home features are most important to you. Before you begin your home search, create a list that assigns each feature a numerical ranking. For example, if you can't imagine living without an island in the kitchen, assign a "1" to "kitchen island" on your list. Rating features can help you quickly rule out floor plans that don't include your non-negotiable items.
Go with the Flow
Houses with poor flow require you to backtrack or travel circuitous routes to reach key areas of your new home. Keep these things in mind when you evaluate flow:
Groupings: Rooms that are often used together are grouped near each other if a house has a good flow. The kitchen is next to the dining room, while bedrooms and bathrooms are adjacent to one another in a quiet section of the house.
Circulation Patterns: Is it easy to walk from one part of the home to another? Are there barriers that prevent you from easily accessing certain parts of the home? Is the layout of the home odd or confusing?
Individual Room Flow: Good flow within a room is also important, particularly in kitchens and bathrooms. No matter how large or small the kitchen, key fixtures and appliances, such as sinks, ovens, refrigerators and dishwashers should be located fairly close together to make cooking and clean-up easier.
Think About Aesthetics
Well-thought-out floor plans enhance the appearance of your new home. When you evaluate plans, think about what visitors will see when they first enter your home. Will your guests enter your home through the formal living room or a foyer? A foyer not only helps keeps dirt and debris out of your living spaces, but also provides a more attractive entry point to your home. Consider the locations of bathrooms too. When the powder room opens directly into the kitchen or family room, you may become more knowledgeable about your family's bathroom habits than you'd really like.
Visualizing a completed home from a one-dimensional floor can be a little challenging. Luckily, many builders offer 3D virtual tours on their websites. Taking a look at the tours can be very helpful when you evaluate flow and aesthetics.
Take a Few Measurements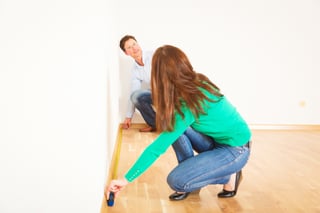 It's not always easy to judge how well your furniture will fit in your new home. The sectional sofa that fits the corner of your family room perfectly may not be ideal for your new space, or you may discover that your dining table is too small if you're upgrading to a home with much bigger rooms. Luckily, you can avoid moving day disappointments and an unexpected increase in your budget if you measure your furniture and make sure that it will fit the floor plan.
Plotting the measurements on graph paper is one way to ensure that everything fits, but there's an easier method. Apps like SmartDraw and Floor Plan Creator automate the process. The sites feature a large selection of templates that can be customized with just a few clicks.
Consider Your Future Needs
The best floor plans can be easily adapted to fit your needs now and in the future. If you're planning to age in place, it may make sense to choose a plan that offers the option to add a first-floor master bedroom suite to your new home. Although you may not need to use the first-floor suite now, it can always serve as a guest suite temporarily.
Other options, such as extra bedrooms, bedroom suites and larger garages offer increased flexibility. Your children may be toddlers now, but they'll be driving before you know it. Opting for a three-car garage can help prevent future disagreements about whose car gets one of the coveted spots in the garage.
If Central New Jersey is on your list of new home locations, you'll want to take schedule an in-person or virtual visit with a Country Classics sales associate. Virtual tours of some of floor plans can be found on the Country Classics' website. If you're ready to become the first resident of one of our brand new executive homes, contact us soon and we'd be happy to help!
Sources:
SmartDraw:
https://www.smartdraw.com/floor-plan/floor-plan-designer.htm
Floor Plan Creator
https://play.google.com/store/apps/details?id=pl.planmieszkania.android&hl=en
Freshome: 10 Effective Ways to Choose the Right Floor Plan for Your Home
https://freshome.com/2013/09/20/10-effective-ways-to-choose-the-right-floor-plan-for-your-home/