The quality of the local school district is an important consideration when you're buying a new home. Even if you don't have school-age children, it pays to investigate the quality of the schools in your town. It is good to know if students in the district don't perform well on standardized tests, or the schools are considered unsafe. These factors can certainly cause home and resale values to decline.
Although you may plan to live in your home forever, things could change. You might receive a tempting job offer across the country one day or even decide to retire in a warmer location. Should you decide to move, you'll receive a better price for your home if there are plenty of school options nearby.
Thanks to the public schools in Hillsborough Township, residents enjoy rising home values and a healthy ROI. Take a look at a few reasons why you may want to consider buying a home in the Hillsborough Township School District.
Schools Are Conveniently Located
That perfect house may not seem quite so ideal if your children must travel miles to go to school or are forced to attend classes in another district because your area doesn't have its own high school. Unlike some municipalities, Hillsborough Township's system meets the educational needs of area children from the first day they enter the school system as kindergartners until the day they walk across the stage to receive their high school diplomas. Approximately 7,300 students attend these Hillsborough Schools:
Kindergarten – 4th Grade
Amsterdam Elementary School

Hillsborough Elementary School

Sunnymead Elementary School

Triangle Elementary School

Woodfern Elementary School

Woods Road Elementary School
Grades 5 – 6
Auten Road Intermediate School
Grades 7 – 8
Hillsborough Middle School
Grades 9 – 12
Hillsborough High School also offers a preschool program for children ages 3 to 5 for a small fee. Early registration is recommended, as the program can only accept 16 students.
A Challenging Curriculum Prepares Students for Life After School
Hillsborough Township children excel in academics. For example, during the 2017-2018 school year, 71 percent of students within the district met or exceeded expectations in English Language Arts, while 76 percent of students met or exceeded expectations in mathematics. Intermediate school students also scored well in the New Jersey School Performance Report with 67 percent meeting or exceeding expectations for English Language Arts and 71 percent meeting or exceeding mathematics standards.
More than 25 advanced placement classes help prepare high school students for college. In 2015, high school students who took the ACT and SAT college entrance exams scored above the New Jersey average, thanks to the high level of instruction they received in Hillsborough Township Schools. More than 90 percent of recent graduates planned to attend a college or university.
In addition to the standard English classes, high school students can also take classes in public speaking, creative writing, composition, drama, musical theater and war fiction. The math curriculum includes classes in algebra, geometry, statistics, trigonometry and computer programming. Science students take anatomy, physics, environmental science, chemistry, physics and astronomy and can explore future careers in Intro to Engineering Principles or Medical Laboratory Techniques.
Younger students enjoy general arts and music courses, while high school students can choose from art history, crafts, painting, printing making, sculpture, cartooning, music theory, band concert choir and musical theater workshop.
The district's special education program helps students at all grades level achieve their full potential and also provides school-based speech and language, occupational, and physical therapies.
Hillsborough Township Public Schools Make Convenience a Priority
Parents can check their children's' grades at any time by accessing the Genesis Portal on the school district's web page. In addition to providing up-to-date information on grades, the portal also offers information on placements, attendance and bus information.
Many working parents worry that their young children will have to spend time alone at home before or after school. If you must leave for work before the school bus arrives or don't arrive home until after school has already been dismissed, you may want to enroll your child in one of the onsite before/after school programs. Hillsborough Township Public Schools offers the programs at every elementary school in the district and at the intermediate school. The program is run by Catholic Charities.
Every elementary school also provides transportation to some area daycare centers for parents who choose to use the centers as an option for before or after school care.
Computer Literacy Is Encouraged with the 1:1 Initiative
As part of the Hillsborough Township Public Schools' 1:1 initiative, every child in grades 5 through 12 receives a Chromebook with a touch screen. Students use the laptops in every class and can take them home with them. The Chromebooks also used to complete and submit homework, conduct research and carry out special projects, such as creating videos on subjects that the students are studying.
Athletics and Activities Encourage Personal Growth
Hillsborough High School offers many sports for its students, including:
Baseball

Boys and Girls Basketball

Softball

Cheerleading

Boys and Girls Lacrosse

Ice Hockey

Field Hockey

Boys and Girls Golf

Cross Country

Track and Field

Boys and Girls Tennis

Football

Wrestling

Gymnastics

Boys and Girls Swimming

Boys and Girls Soccer

Boys and Girls Volleyball
During the 2016-2017 school year, the Hillsborough Township High School girls gymnastic team won the Central Jersey Sectional, Somerset County and Skyland Conference Delaware Division championships. The girls volleyball team won the Somerset County championships, while the girls swimming and cross country teams were name Central Jersey sectional champs.
Competition isn't just limited to sports. High school students also have the opportunity to show off their brain power by participating in the physics, math or biology teams, or competing in Model Congress, Model UN, Mock Trial or Science Olympiad.
One of the most popular competitive activities at the high school is the RoboRaiders Team 75. Every year, the robotics team designs and builds robots that they enter in competitions. During the past school year, the team was named Event Finalist in a 40-team competition at Mt. Olive High School and was declared the Engineering Inspiration winner. The RoboRaiders Team 75 also won an April robotics event at the Montgomery School District and were the recipients of the competition's Industrial Design Award.
In addition to sports and competitive activities, the school also offers numerous clubs and dedicated to a variety of activities, including:
Woodworking

Rugby

Weightlifting

Video and Film

Project Green

Loud Speakers

Foreign Languages

Skiing

Gay-Straight Alliance

National Honor Society

Gaming

Future Doctors

Future Business Leaders

Student Government

Anime

Asian Culture

Birding

Chess

Computer Programming

Dance

Drama
Hillsborough Township Schools Have Been Recognized for Excellence
The district has won many awards and honors, thanks to its strong curriculum and experienced teachers and administrators. In Niche's 2020 rankings of more than 8,000 public schools, Hillsborough Township Public Schools ranked 15th in best school districts in New Jersey, 31st in best school districts for athletes in New Jersey and 30th in districts with best teachers in New Jersey.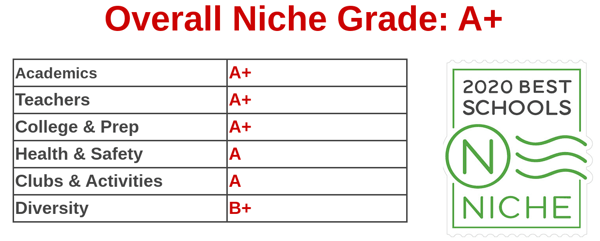 The school district has also received national recognition. In Newsweek's 2016 list of America's Top High Schools, Hillsborough Township High School was ranked 217th. According to Niche's 2020 report, Hillsborough Township Public School District ranked #199 of nearly 11,000 public school districts across the country.

Sources:
Hillsborough Township Public Schools
Niche: 2020 Best Schools
https://www.niche.com/k12/d/hillsborough-township-public-school-district-nj/
State of New Jersey Department of Education: 2017 – 2018 Performance Results (Released March 2019)
https://rc.doe.state.nj.us/report.aspx?type=summarydistrict&lang=english&county=35&district=2170&SY=1718&schoolyear=2017-2018