Building a community is about more than just building houses. That's why Country Classics is so pleased that we were able to participate with One Warm Coat® recently, to provide coats and winter accessories to The Mercy House in Perth Amboy, NJ.
From November 1 to December 1, 2015 we collected more than 75 coats. We couldn't be happier with the turnout for donations, and it was great to see our neighbors work together to keep those in need warm this winter. We look forward to holding additional coat drives in the future.
For more than 20 years, One Warm Coat® has been working to provide a warm coat to anyone who needs one. We're so happy to assist them in their goal of warming one million people each winter, one community at a time!
While we love the idea of offering tangible help such as the coats you see pictured here, Country Classics has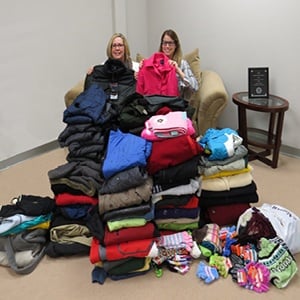 a long history of providing support to organizations in the communities where we build homes, including Hillsborough Rescue Squad, Hillsborough Rotary Club, Resources Center of Somerset, and Somerset Medical Center Foundation, among other organizations in New Jersey. We also contribute to charitable organizations in Easton, PA such as The Children's Home of Easton and Lafayette College.
We love building dream homes that people enjoy in areas such as Hillsborough and Montgomery Township, New Jersey, and in Williams Township, Pennsylvania. We also love building community in the towns where we create these homes, and we're extremely thankful to the clients and customers who have enabled us to do both!
If you'd like more information about One Warm Coat®, you can find it at www.onewarmcoat.org.