If you're planning to build a new home, one of the big choices you'll need to make fairly early in the process is what kind of flooring you want. Like so many homebuilding choices, there's not necessarily one "right" answer that works for everyone. Here are some questions that can help you make the right choice for your family.
What looks good to you?
Appearance is important. Your choice in flooring plays a significant role in setting the tone for the rest of your home. Some homeowners prefer the visual and physical warmth or carpet. Carpet also muffles sound for a quieter feel. Hardwood floors give a house a sleeker "cleaner" look and work well with today's open designs. Most homeowners also use area rugs when they have hardwood floors—which helps soften the sound and feel of a room.
How does your family live?
Kids and pets can be hard on carpet because they track dirt across them. And if your family carries food or drinks through the house, there will inevitably be spills. Most spills and dirt can be easily removed from a wood floor. Carpets require a bit more care. And if you have heavy traffic areas, carpets will show wear patterns more quickly.
What requires less care?
Both wood floors and carpets require sweeping/vacuuming roughly once a week. Carpets, however, normally need professional cleaning once or twice a year. Wood floors should be cleaned (with a wood-cleaning solution) every three-to-four weeks.
What about durability?
A good carpet will usually last about 10 years. And even if it's not worn out by then, it will start to look a little outdated. The finish on hardwood floors usually carries a warranty of 25-to-30 years. And then it can be redone.
What about resale?
This, of course, is subject to changes in trends, but currently hardwood floors do better in resale. And the National Association of Realtors reports that buyers will generally spend $2,080 more for a house that has hardwood flooring.
What about health concerns?
Carpets can trap dust, hair, skin, mold spores and other things that can irritate eyes and contribute to respiratory problems—particularly if someone in your home has allergies. Even regular vacuuming doesn't remove all allergens.
How do costs compare?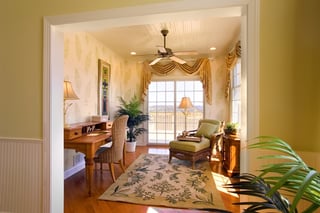 Hardwood floors generally cost in the range of $9-$12 per square foot to install (reclaimed wood can cost as much as $30 per square foot). Average carpet installation costs are around $4-$5 per square foot (estimates from homewyse.com). So the initial expense is higher for wood, but wood lasts longer and has a higher resale value.
As you can see, there's no one "right" answer. It depends on what you like and what feels comfortable. On top of that, it's not an "either/or" proposition. Some families opt for hardwood floors in common rooms where there's more traffic (and spills are more frequent) and choose carpeting for bedroom areas. These questions, however, at least give you some food for thought.