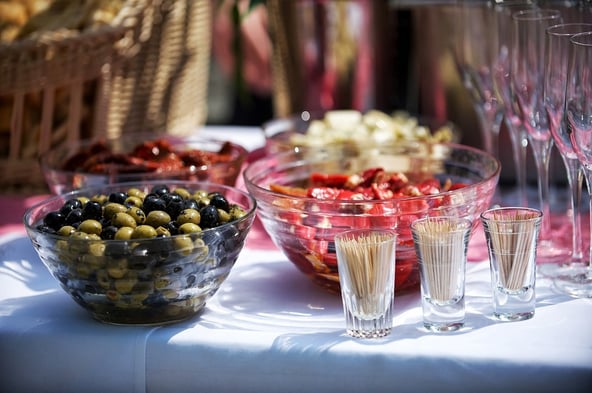 Some people are born with the entertaining gene. The rest of us need a little help to throw memorable parties that our guests remember fondly. Whether you've just moved into your new home or have lived there for a while, these five tips will help you entertain in style.
Take Advantage of Your Home's Features
If space was tight in your old home, your guests may have spent the bulk of the party squeezed into the kitchen or crowded into your tiny family room. Thanks to the prevalence of open concept floor plans in new construction, there's plenty of room for all of your guests to socialize. When guests have gotten used to hanging out in the kitchen, it can be a little challenging to convince them to explore the rest of your home. Make it easier for them to spread out by offering food and beverage stations in the kitchen, study and family room.
Start Planning Two Weeks in Advance
If you're hosting a small dinner party, you may only need to plan a few days in advance, but when you're throwing a big bash, you'll need to start the preparations a least two weeks before the big day. If you'll be cooking and serving the food yourself, make sure you have enough serving dishes, chairs, plates, glasses, silverware, napkins and tablecloths on hand. Once you determine what supplies you need, you can buy more or arrange to rent what you need.
Now is the time to prepare your shopping list. Even if you've made a dish hundreds of times before, it's a good idea to consult the recipe to ensure that you don't forget key ingredients. There's nothing worse than having to make a last-minute grocery store run when your guests will be arriving in 30 minutes.
Offer an Ample, Varied Menu
Have you ever stopped at McDonald's on the way home from a party because there just wasn't enough to eat? Running out of food is every host or hostess' worst nightmare, but it's a problem that can be easily avoided. After you decide how much you food you'll need, increase the amount by 1/3 to ½ to prevent shortfalls. You can always send leftovers home with the guests.
The best parties offer a selection of foods sure to please even the pickiest person in the crowd. If you decide to experiment with new recipes, include at least one dish made the usual way. If you're hosting a large party or would rather spend more time socializing with guests than in the kitchen, it makes sense to choose menu items that can be made ahead and reheated just before the party begins.
Find the Perfect Bar Location
The bar may end up being the most visited area at your party. If you don't have a bar in your home, create one in an easily accessible location. Kitchen islands offer the ideal pour-it-yourself space for bars. They're close to the action, yet still provide enough room for people to circulate. Consider adding an additional bar if you're hosting a large group. Setting up a bar in a study, dining room or media room can eliminate log jams in the main party space.
Pick the Ideal Music
Music enlivens any party – if you choose the right mix for the crowd. Consider the ages of those who will be attending the party and add a mix of songs sure to appeal to a cross-section of guests. The louder the music, the better when dancing is one of the party activities. Keep in mind that not all guests will want to dance. Make sure the noise level is a little lower in other parts of the house for guests who want to hold conversations away from the dance floor.
Throwing a great party is much easier when you have a beautiful, spacious new home. Every floor plan at Country Classics at Hillsborough offers ample room for entertaining. With large kitchens, family rooms and dining rooms, your guests will have plenty of space to spread out. Expecting overnight guests? Every Country Classics at Hillsborough home offers four large bedrooms. If you're looking for a home that's large enough for entertaining, contact us and make arrangements to take a tour of our spacious new homes.
Sources:
Southern Living: 10 Ways to Ruin Your Party
http://www.southernliving.com/food/entertaining/how-to-throw-the-perfect-party
Apartment Therapy: Party Architecture: #2 – Structure
http://www.apartmenttherapy.com/party-architecture-structure-how-to-plan-a-party-5427