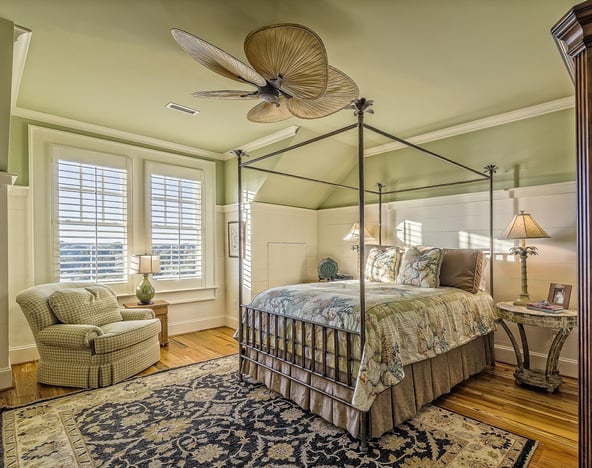 Does your new home include ample bonus space? While you're probably thrilled to have the extra room, it's not always easy to decide how you'll use it. We've compiled a list of several of the most popular uses for bonus spaces. Perhaps one of them will fit your needs.
Yoga Room
Practicing yoga is an excellent way to stay in shape and improve your health. Best of all, it doesn't require bulky equipment and can be practiced anywhere there's enough space for your yoga mat.
A sitting room attached to your master bedroom, a spare bedroom or a first-floor study located far enough away from the hustle and bustle of the rest of the house are ideal spots for a yoga room. If the room doesn't have a large closet, store your mat, blocks and other props in a tall chest. Choose paint colors that help you feel calm and relaxed, such as soft blues, greens and grays.
Home Gym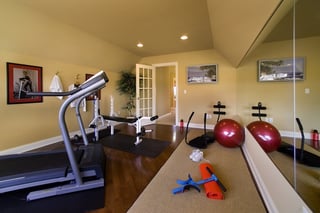 Have you ever skipped a workout because you didn't feel like driving to the gym? There are no excuses when you have a fully outfitted gym in your home. Adding a home gym to your master bedroom sitting room or an empty bedroom on the second floor may be ideal if you like working out first thing in the morning.
If you like to crank up the music while you exercise, or you own a large selection of exercise machines, the finished basement may be a better choice for your home gym. When you create a home gym on the lower level of your gym, you'll also have plenty of room for expansion.
Library
Turning your extra space to a home library solves your book storage problem and adds a little character to your home. Add built-in floor-to-ceiling bookshelves, mahogany covered walls and leather overstuffed furniture for a home library that would be perfectly at home in an English manor. If you prefer a more modern look for your library, choose free-standing shelves, sleek furniture and bold contemporary artwork.
Sitting Room
When you use your extra room as a sitting room, you'll always have a comfortable place to relax. The location of your sitting room depends on its purpose. Do you want a space where you can socialize with friends, or do you want to create a private sanctuary?

A first-floor study or other bonus space offers convenient access when you expect to do a lot of entertaining in your sitting room. Whether you prefer to furnish the room with two large couches or a selection of chairs, creating conversation areas makes visiting with guest more comfortable.
When you don't plan on sharing the room with others, it makes sense to place it on the second floor. If you're lucky, your master bedroom suite already contains room for a sitting area. If you don't have a designated sitting room, turn a vacant bedroom into your own personal oasis.
Home Office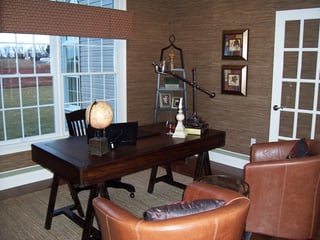 You could catch up with work or pay the bills from the kitchen table, but luckily, your new home offers enough extra space to create a comfortable, functional home office. Although the rest of your home may have a definite style, your home office should reflect your personal taste. Choose furniture and paint colors that you find appealing. The more comfortable the room, the more often you'll use it.
Guest Bedroom
An extra room is the ideal place to create a guest bedroom. Furnish the space with a comfortable mattress, a selection of down and foam pillow, and a small desk and chair. If you have enough room, consider creating a snack bar area with nutritious and not-so-nutritious selections and a coffee/tea maker. If your guests are early risers, they can enjoy a cup of tea or coffee in their rooms and won't have to search your kitchen to find beverage supplies. Need some inspiration? Take a look at the photo gallery of guest bedrooms on Houzz.com.
Home Theater
Watching your favorite movie or the big game is much more enjoyable when you have a home theater. It's simple to create your very own theater by adding a large screen television and a row of recliners to the room. If you're looking for a more authentic movie experience, consider adding risers to the room and creating several levels of seating.
Art Studio
You may have been forced to work in your basement or garage if space was tight in your previous home. Although basements offer ample space, they don't always provide enough natural light. Rooms on the main levels of your home offer abundant light and the space to store all of your art supplies.
Storage Room
If you're tired of walking up and down the basement steps when you need cleaning supplies or holiday decorations, why not convert an extra room into the ultimate storage closet? Choose furniture-quality storage solutions, and add doors to shelving to keep the items you store out of sight. A chair and a small work area can be a welcome addition if you need to sort items before you store them.
Have you given up on finding a home with extra room? Country Classics offers homebuyers the option to add a morning room, first-floor bedroom, or even a princess suite to their home. Get in touch with us if you would like to tour a model home.
Yoga Journal: 5 Ways to DIY Your Yoga Sanctuary
https://www.yogajournal.com/lifestyle/5-ways-diy-yoga-sanctuary
Houzz: Best Guest Bedrooms
https://www.houzz.com/beautiful-guest-bedrooms